Hollydays Wreath Making & Plant Walk
Explore the winter woods with our naturalists and then create a beautiful wreath to adorn your home for the season!
Hike our trails with naturalists and fellow "weed warriors" to learn to identify some of our most common invasive plants like English holly and English ivy. 
How did these plants get to the Pacific Northwest and why are they so widespread in our forest?  Did they arrive on accident, or were they intentionally brought here? As we walk with our naturalists to collect these items, we'll discuss this and more!
After our walk to collect invasives and other abundant plant life for adornment we'll head back to our beautiful Dining Hall to make holiday wreaths. We have huge, rustic tables in our Dining Hall and lots of room to spread out for crafting your new seasonal decor!
Bring your neighbor, your gal pal, your sister, your partner, or your kiddo (10 years +) and let's do some good for our forest while enjoying these "hollydays" together!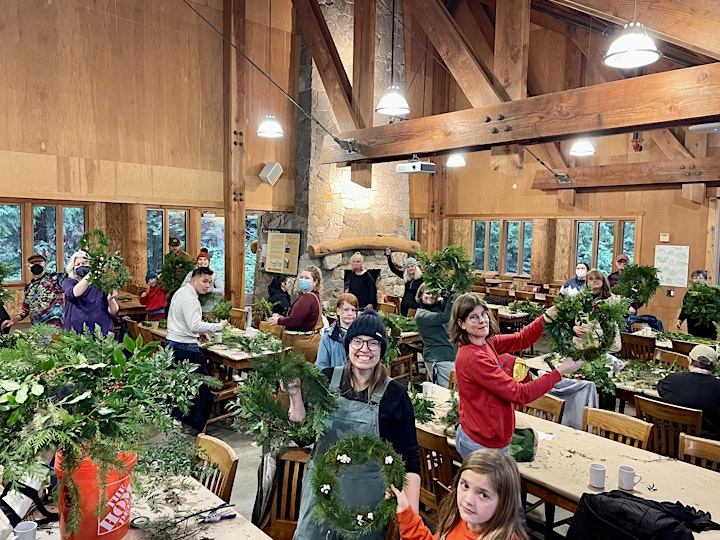 THINGS TO KNOW
This class is rain or shine! (last year it drizzled, but folks were in outerwear and then we were inside designing wreaths and it went great!)
Due to the content and pace of this program, we have designed this program for ages 10 years and up, as we recognize youths also love to craft! We look forward to building community with all of you in this class.
Please remember our campus policy is 'no dogs unless they are a service animal.'
We will be cozy in our beautiful Dining Hall space with winter drinks to warm our hands, and have some festive nibbles made in-house by our acclaimed kitchen team.
Masks are optional for all attendees, if you are feeling unwell, please stay home and feel better!
We are so grateful to our program partners, Weed Warriors, a program of Sustainable Bainbridge.